During RV Pelagia expedition 64PE475 to Kolbeinsey, Grimsey and Strytan vent fields North of Iceland we collected samples to study (1) the ecological connectivity at vent field scale (PI Gollner), including distribution of vent faunae and their adaptations to extreme environmental conditions, (2) the role of archaeal symbionts on host evolution and ecology, as well as nutrient cycling (PI Spang), (3) paleoenvironmental records (PI Hennekam), and (4) aided in establishing a potential Icelandic long-term monitoring site (PI Egilsdottir). We aim to understand the response and adaption to extremes that will help us to predict resilience and biodiversity in our changing oceans.
Our projects are in cooperation with the international project IceAGE (Icelandic marine Animals: Genetics and Ecology, PI Brix) that has the mission to explore the diversity of animals that live in deep waters around Iceland.
The remotely operated vehicle (ROV) Phoca (GEOMAR Kiel, Germany) was used to (1) make pictures/videos and measure temperatures from vent fields, (2) take biological samples (rocks and sediments with associated microbial and faunal communities), (3) deploy/recover faunal settlement substrates and (4) deploy/recover hydrophones at and near hydrothermal vents. In addition, we used CTDs to collect water in different depths above and near venting areas, boxcores to collect sediment near Kolbeinsey vent, and multicores to collect sediments near Grimsey vent. To study paleoenvironmental conditions, we used gravity cores, piston cores and multicores at five additional locations. To establish an Icelandic monitoring site, an epibenthic sledge was used to collect epifauna during one day dedicated to the monitoring program. Multibeaming was performed to create seafloor maps.
The use of the ROV Phoca on RV Pelagia was very successful and a total of 13 dives (6 at Kolbeinsey, 6 at Grimsey, 1 at Stryan) during 10 days could be made. Kolbeinsey vent field is at ~100 m depth and is characterized by a central venting area (up to 160°C) that is surrounded by dense bacterial mats, sponges and polychaetes. There are no chimneys at Kolbeninsey and the area is dominated by hard substrate (Figure 1). Grimsey vent field is at ~400 m depth and is characterized by numerous white chimneys (nine chimneys ranging from 50 cm to several meters in height were observed during our expedition), with sedimented areas between chimneys. Maximal temperatures were ~250°C, and bacterial mats, krill, amphipods, fish, anemones and snails were present at and in close vicinity to vents (Figure 1). At Strytan vent, a 40 m high chimney in 60 meters water depth, a vertical ROV video transect was carried out. At the Kolbeinsey and Grimsey vent, the following sampling was performed: 3 hydrophones deployed/recovered; 8 settlement substrates deployed/recovered; multiple rock and sediment collections to study biodiversity of associated microbes and fauna (at and in close vicinity to vents); CTDs at vent, in 1 km and 3 km distance to vent; boxcores/multicores in 1 and 3 km distance to vent.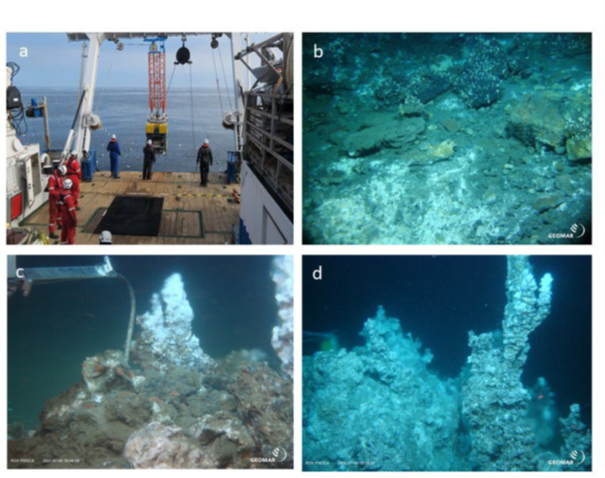 Figure 1. (a) Deployment of ROV Phoca from RV Pelagia. (b) Kolbeinsey vent field. (c) Temperature measurement at a small chimney at Grimsey vent field. (d) Large chimney at Grimsey vent field.