Hans van Haren
Royal Netherlands Institute for Sea Research (NIOZ), P.O. Box 59, 1790 AB Den Burg,
the Netherlands (hans.van.haren@nioz.nl)
This is a brief narrative of the NIOZ-barter cruise on board Ifremer R/V Pourquoi pas ?, which could be organized on short notice.
Early October 2020 R/V Pelagia (NIOZ) sailed to the Liguro-Provençal Basin in the Western Mediterranean. The purpose of the cruise was to deploy a half cubic hectometer large mooring array. In complete unfolded form underwater, it holds 3000 high-resolution temperature sensors that will monitor the development of internal wave and sub-mesoscale eddy turbulent overturning in three dimensions at the foot of the continental slope for a period of 3 years. The large array was built up in flat form inside a 70 m diameter large ring consisting of 0.6 m diameter steel tubes in the harbour of la Seyne-sur-mer (F) during the 10 days before. The ring was towed by commercial tug to the mooring site, about 40 km southeast of Toulon harbour. After mounting a drag parachute from the Pelagia, the large ring was sunk in a quasi-controlled way by opening valves in the ring. The ring was successfully lowered to the sea floor. Unfortunately, 2 out of 6 lines of the drag parachute could not be released acoustically.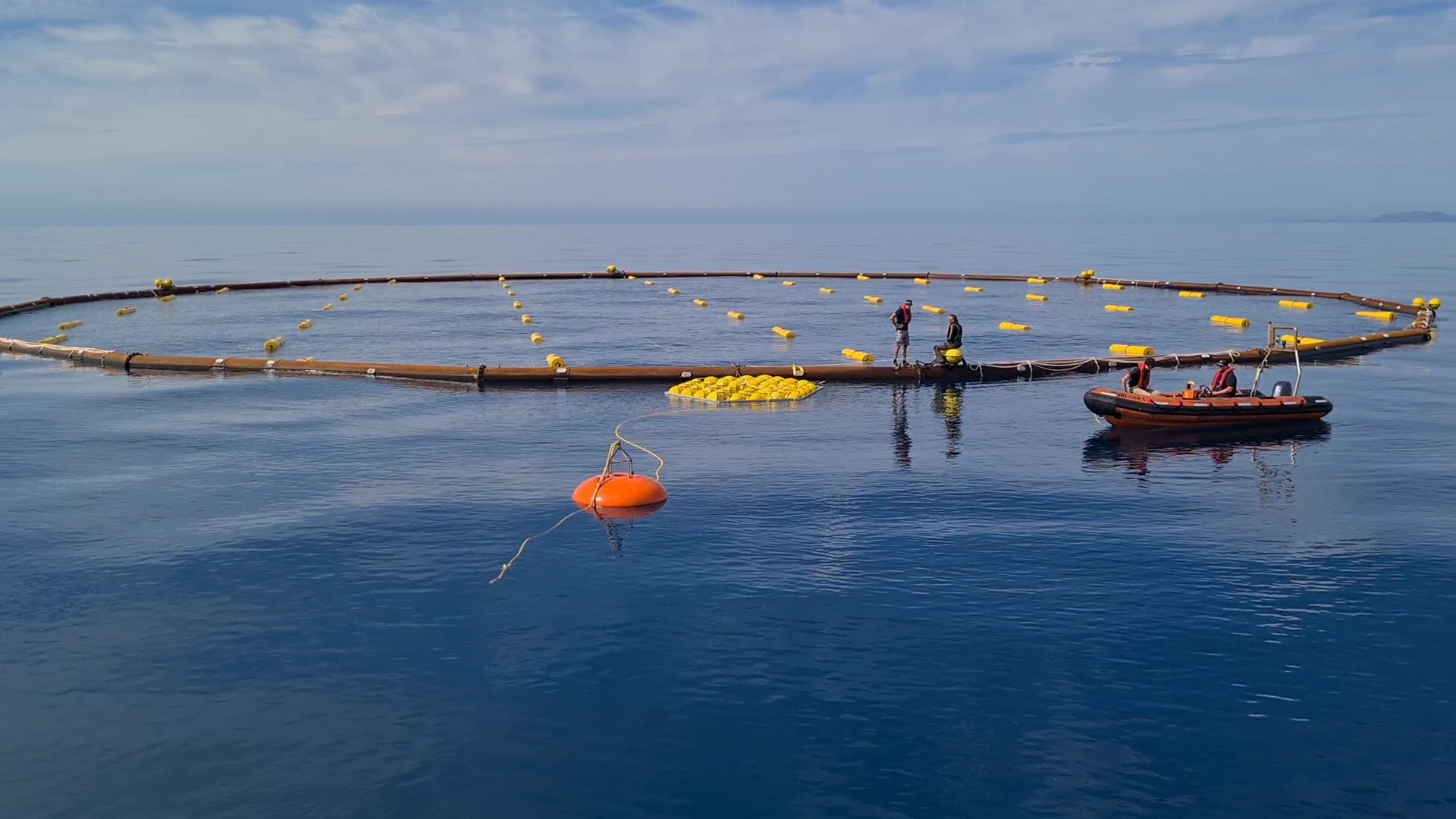 The large mooring ring at sea, just before sinking. The drag parachute is the flat yellow 'camembert' plus orange top-buoy in the foreground outside the ring. Inside the ring, the yellow top-buoys are visible of the future vertical temperature sensor lines (photo NIOZ).
In mid-November 2020, the drag parachute was successfully released by cutting the stuck line via remotely operated vehicle ROV Victor and professionally recovered on board R/V Pourquoi pas ?. The ROV operation was also used to verify the chemical release of the 45 vertical mooring lines and visual inspection of the mooring array. It showed the nicely unfolded vertical lines.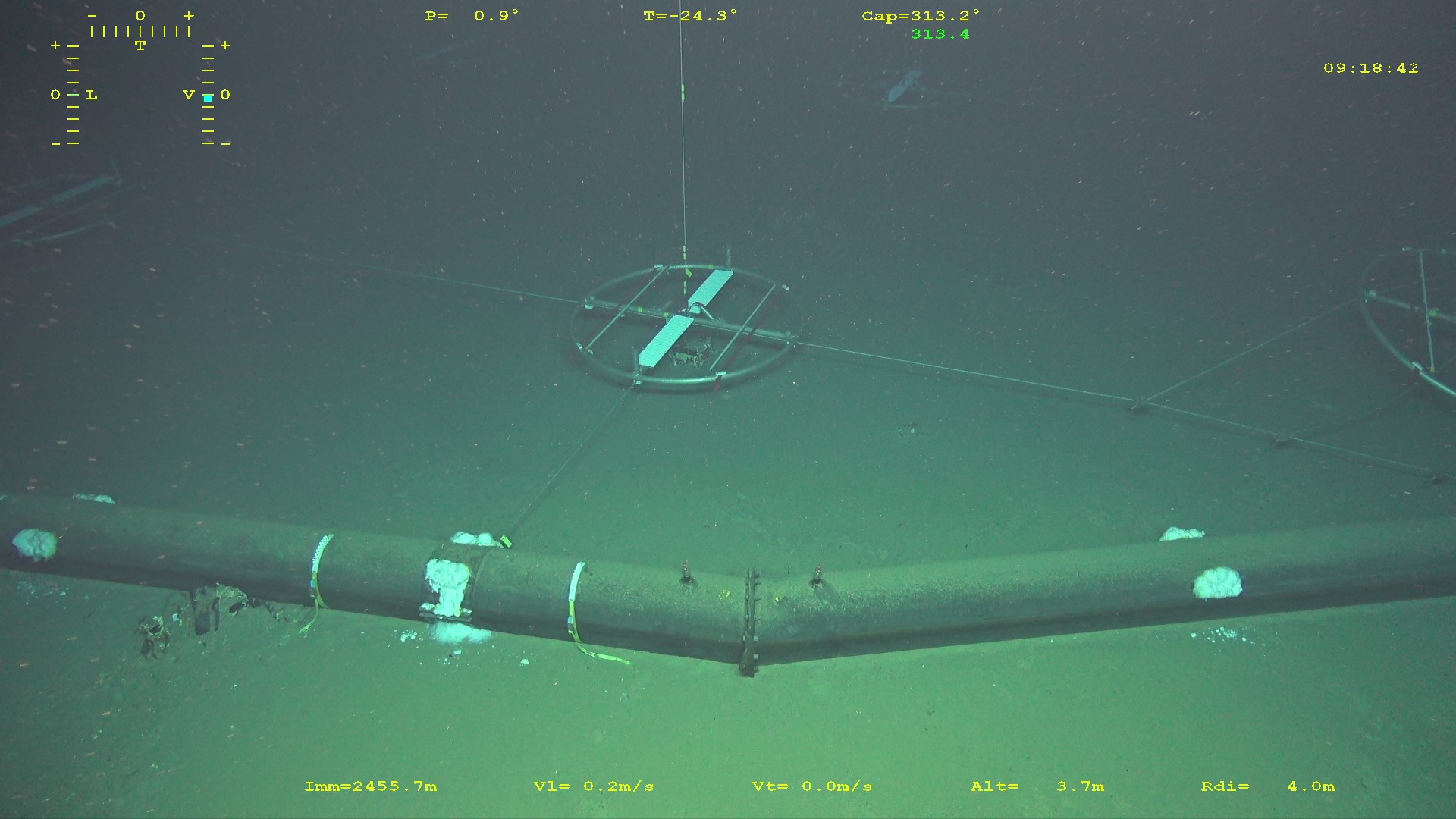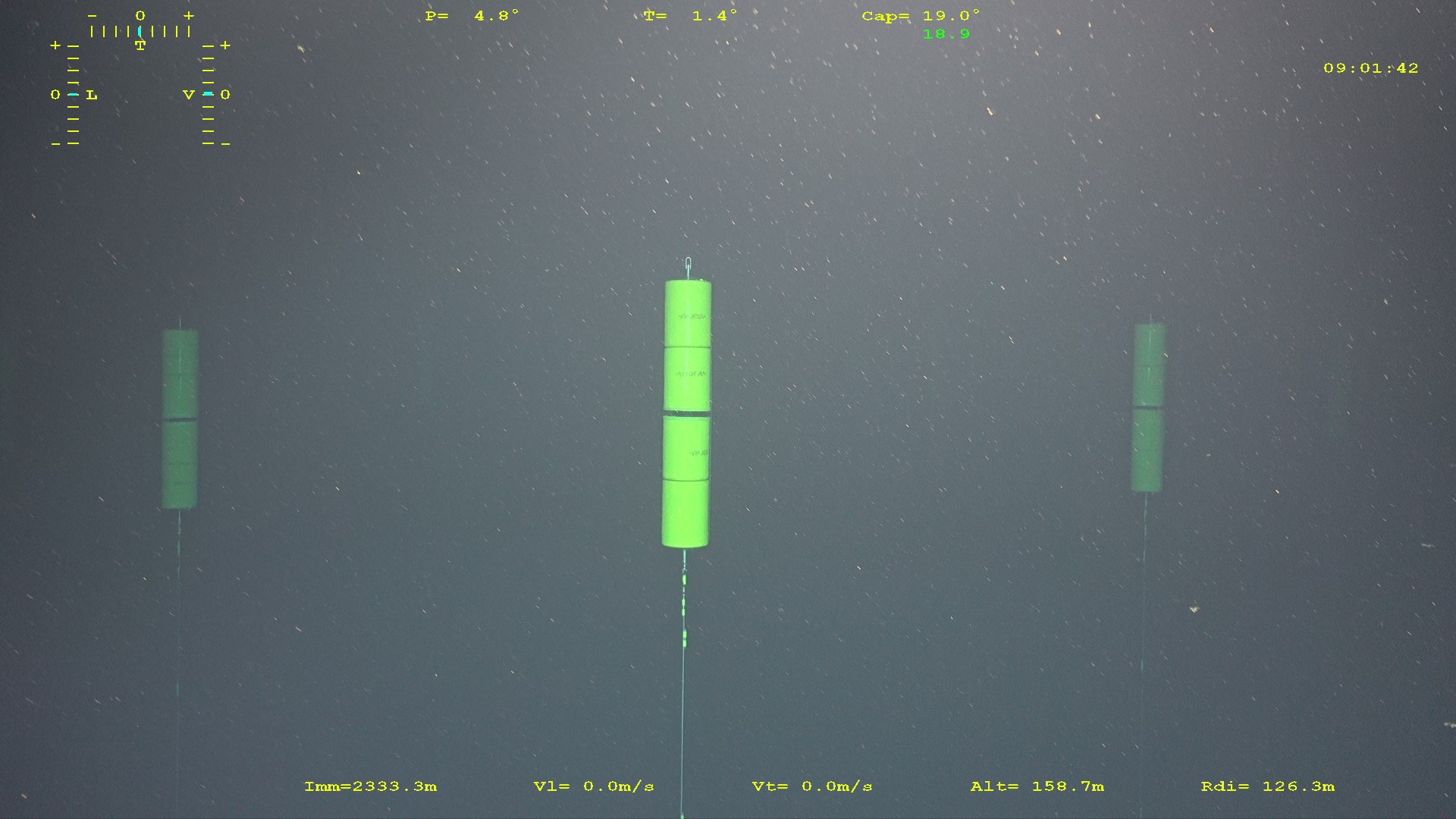 Part of the large array underwater at sea floor (2458 m) in screenshots taken from ROV Victor video. (left) The large ring in foreground and a few small rings emptied from their temperature sensor lines. (right) 125 m above ground, the top-buoys of vertical mooring lines (photos Ifremer).