The OFEG barter cruise REMOBS (Rescue Mission for Ocean Bottom Seismometers) successfully recovered 15 Ocean Bottom Seismometers (OBS) with the French RV Marion Dufresne in the SW Indian Ocean.
The instruments are owned by BGR (Federal Institute for Geosciences and Resources, Hannover) and GEOMAR (Helmholtz Centre for Ocean Research, Kiel) and they had recorded seismic activity at the Central Indian Ridge since December 2019. The OBS were deployed by the German RV SONNE and should have been recovered within the research project SCIROCCO in autumn 2020. However, due to the coronavirus pandemic, the project had to be postponed to future years and all German research vessels were ordered back home. Because the emergency time release of the OBS was set to coincide with the meanwhile cancelled RV SONNE cruise, all OBS with their valuable data would have automatically ascent to the sea surface, drift away, and be lost by the end of September 2020. The French RV Marion Dufresne was the only European research vessel remaining in the Indian Ocean at La Réunion relatively close to the Central Indian Ridge, and the OFEG group and France made this barter cruise possible under strict coronavirus regulations.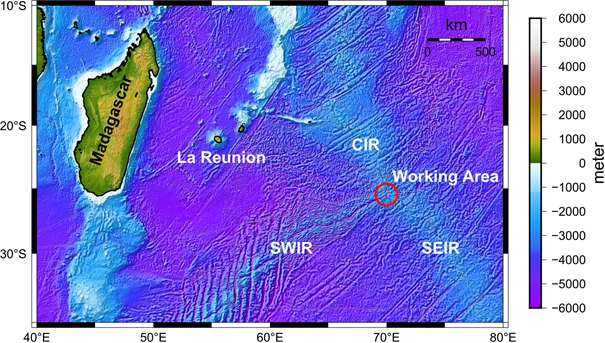 Figure 1: Working area at the Rodriguez Triple Junction, where the Central Indian Ridge (CIR), the South-West Indian Ridge (SWIR) and the South-East Indian Ridge (SEIR) meet.
The cruise started from Le Port, La Réunion, on August 6th and returned to Le Port on August 14th, 2020. The transit to the working area close to the Rodriguez triple junction took three days. During three working days, 15 OBS with good data could be recovered safely. However, the release mechanism of one OBS was blocked, as reported by a coded transmitter response. After the exact OBS location had been triangulated, efforts were undertaken to catch it with a hook chain towed over the seafloor at 4 km water depth. Unfortunately, this very difficult operation was not successful.
The OBS had been set up in two arrays: a local array around the Kairei hydrothermal vent field and a regional array along the southernmost segment of the Central Indian Ridge. The local array around the active Kairei hydrothermal field was designed to resolve the origin of hydrothermal activity and image pathways of the fluid circulation. The regional array along the first segment of the Central Indian Ridge was set up to resolve active zones of magmatism including the Rodriguez Triple Junction.
The excellent technical and scientific facilities of RV Marion Dufresne, the professional support of captain Landreau and his crew as well as the flexible planning by IFREMER made this cruise working so well. This cruise is a very good example of European partnership and support during Corona pandemic times thanks to the OFEG barter program!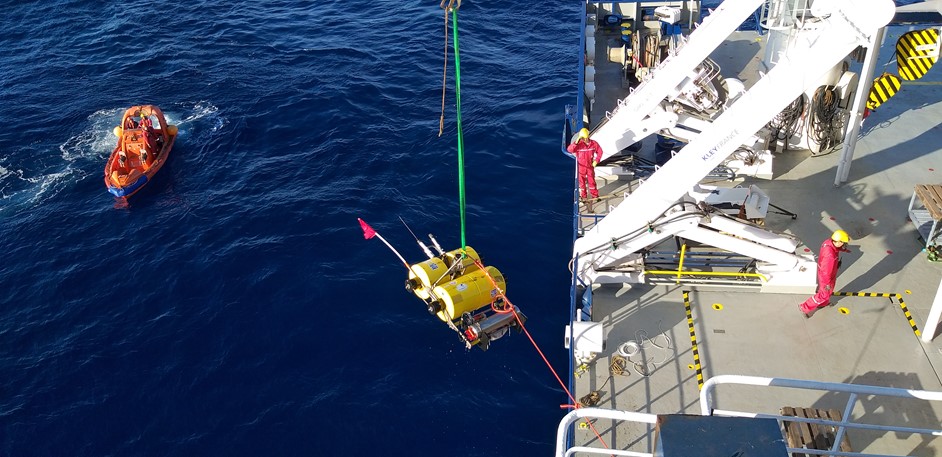 Figure 2: Recovery of an Ocean Bottom Seismometer by RV Marion Dufresne.