The campaign REMOBS (Rescue Mission for Ocean Bottom Seismometers) aims to recover 16 OBS at the Central Indian Ridge. The instruments by BGR (Federal Institute for Geosciences and Resources, Hannover) and GEOMAR (Helmholtz Centre for Ocean Research, Kiel) record seismic activity at this slow spreading mid-ocean ridge where new ocean crust is being formed by phases of magmatic accretion and tectonic stretching.

These OBS's were being deployed during a previous cruise of the German RV SONNE in December 2019. Originally, RV SONNE would have recovered them in September 2020 with research project SCIROCCO (Seismic Imaging at the Central Indian Ridge: Structure and Formation of Oceanic Core Complexes). However, due to the coronavirus pandemic, research vessels were ordered back home and projects were cancelled. Because the emergency time release of the OBS was scheduled to the meanwhile cancelled RV SONNE cruise, all OBS with their valuable data would automatically ascent to the sea surface, drift away, and be lost end of September 2020.

The French RV Marion Dufresne is the only European research vessel remaining in the Indian Ocean and operating from La Reunion. The Ocean Facilities Exchange Group made it possible to carry out this OBS rescue mission in August 2020 on RV Marion Dufresne.

The OBS are set up in two arrays: a local array around the Kairei hydrothermal vent field and a regional array along the southernmost segment of the Central Indian Ridge, extending from the Kairei hydrothermal field in the north to the Rodriguez Triple Junction in the south.

The local array around the active Kairei hydrothermal field will resolve the origin of hydrothermal activity and image pathways of the fluid circulation. The regional array along the southernmost segment of the Central Indian Ridge will resolve active zones of magmatism.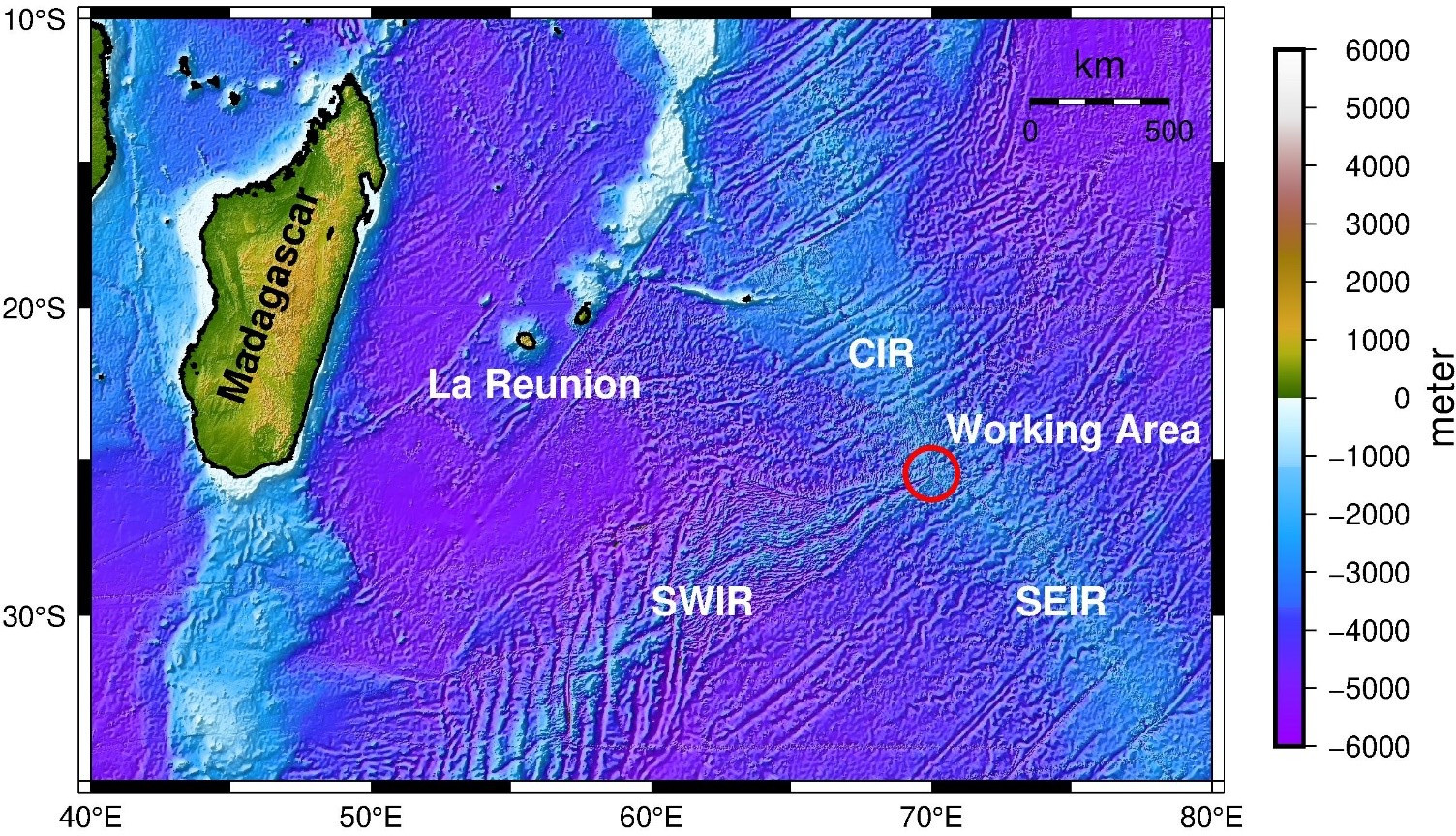 Figure 1: 16 Ocean bottom seismometers record seismicity in the working area at the Rodriguez Triple Junction, where the Central Indian Ridge (CIR), the South-West Indian Ridge (SWIR) and the South-East Indian Ridge (SEIR) meet. RV Marion Dufresne is operating from La Reunion.