As a relatively deep point along the ridge system between Greenland and Scotland, the sill at the Denmark Strait is where most of the dense bottom water that forms in the Arctic is able to flow southward. This southward flow is a crucial part of the circulation of water in the Atlantic Ocean. The sill is monitored through a long-term mooring program, which consists of a pair of current profilers that sit on the bottom and looks upward, in order to measure water current speeds over the full water column. The Western Valley may also be a location where dense water is able to flow southward. However, this area has not been extensively monitored. Our goal is to continue the long-term monitoring of the Denmark Strait Overflow transports at the sill of Denmark Strait and to extend the monitoring of the Western Valley.
This will be done through both short-term moorings – where we take measurements at a high-frequency for two weeks – and long-term moorings – where we take less frequent measurements over one to two years. These moorings will be complimented by ship-based measurements of current speed, temperature, salinity and pressure.
The cruise will be funded by and contribute to the German BMBF project "Regional Atlantic Circulation and global Change" (RACE II) and to SFB/Transregio181 "Energy transfers in Atmosphere and Ocean", funded by the DFG.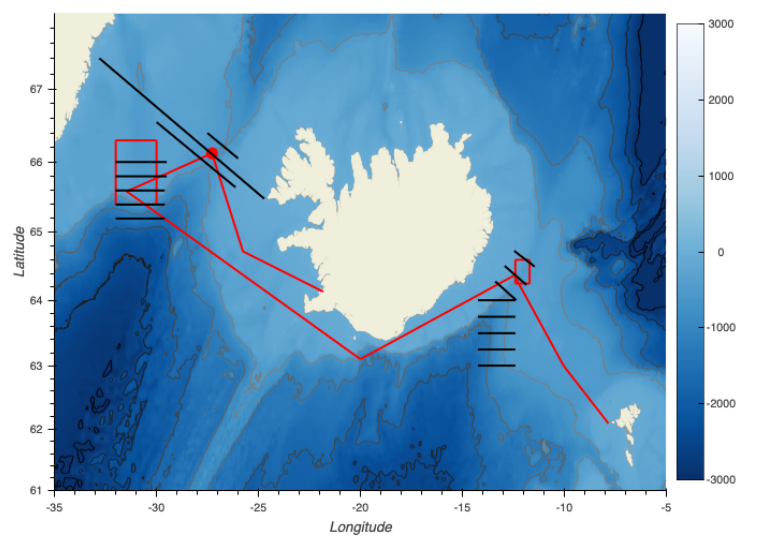 Figure 1: Cruise plan showing transits (red lines), mooring deployments (red boxes and red circle) and CTD (conductivity, temperature, depth) transects, east and west of Iceland. The coloured contours show elevations in meters. The cruise departs from Torshavn, Faroe Islands and ends in Reykjavik, Iceland.