Barter Expedition to the Red Sea was a success
The GEOMAR Helmholtz Centre for Ocean Research Kiel, Germany successfully finished the SaltAx expedition: a marine research expedition with the Dutch research vessel Pelagia to the deep waters of the Red Sea offshore Sudan. The expedition ran during August and September and was funded by GEOMAR and the German Research Foundation (DFG). RV Pelagia was provided by NIOZ, the Netherlands Institute for Ocean Research in the framework of the barter exchange program of the Ocean Facilities Exchange Group (OFEG).
Dr. Nico Augustin, a marine geoscientist in the Research Division "Dynamics of the Ocean Floor" at GEOMAR, led the expedition together with Co-PIs Dr. Neil Mitchell (University of Manchester) and Dr. Froukje van der Zwan (GEOMAR). The aim was to acquire seismic data and seafloor mapping of giant flows of evaporites ('salt glaciers') entering the central rift and of explosion craters formed by the volcanic eruption under the evaporites. The sparker-seismic experiments were carried out in close cooperation with the University of Hamburg. In addition, Sudanese scientists and a security expert from the Red Sea University in Port Sudan and Sudan's Ministry of Minerals in Khartoum accompanied the expedition aboard the RV Pelagia.
After sailing from Limassol in Cyprus and passing through the Suez Canal, the team collected EM302 multibeam sonar, EK500 sonar, seismic reflection with a sparker source and magnetics (gradiometer) data, as well as some sediment cores and a set of water samples. The weather conditions were excellent during the entire expedition. It was very hot in the Red Sea area during that time of the year, but the sea was very calm, which was of great benefit for the quality of multibeam and especially the seismic data. 5.500 km2 newly mapped seafloor and 800 km of seismic data gave exciting (and surprising) high resolution insights into the evaporite and sediment flows and draw a turbulent history of salt glacier movement over oceanic crust into the volcanically active Red Sea rift. Even though a detailed examination of the data is ongoing, this research expedition was a full success and the research team is very happy with the achievements. Also, the professional and friendly support aboard RV Pelagia by the ship's crew and NIOZ facilitated the success of the expedition.
After the expedition, the team was invited to Red Sea University, where Dr. Augustin gave a public presentation about the expedition and plaques were presented to establish the new collaborations. The expedition is a great example of partnering with researchers within Europe and in a developing country, and also the opportunities of OFEG's barter program.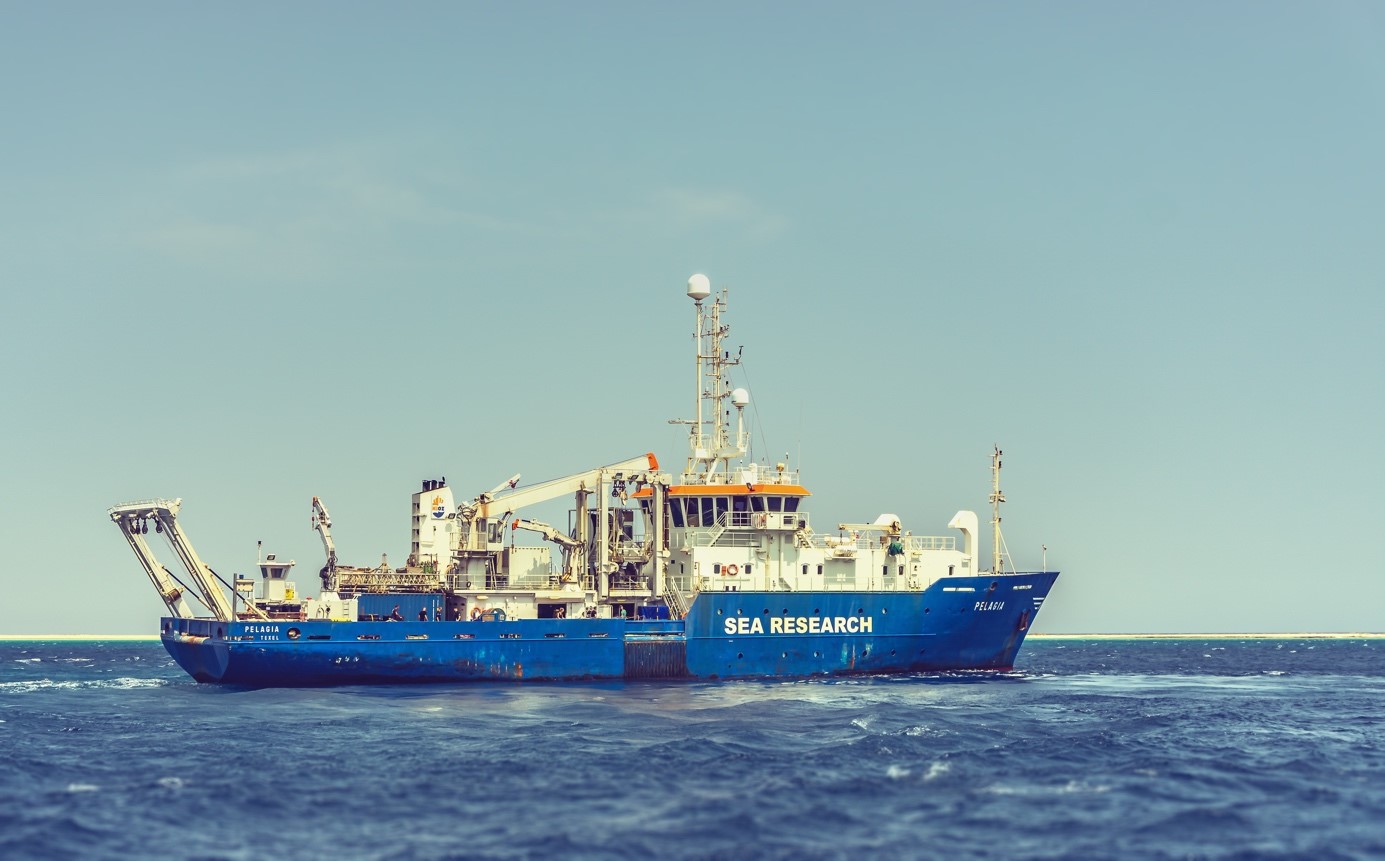 The multipurpose vessel RV Pelagia was the research platform for expedition 64PE455 "SaltAx" to the Red Sea in summer 2018. Picture: N. Augustin (GEOMAR)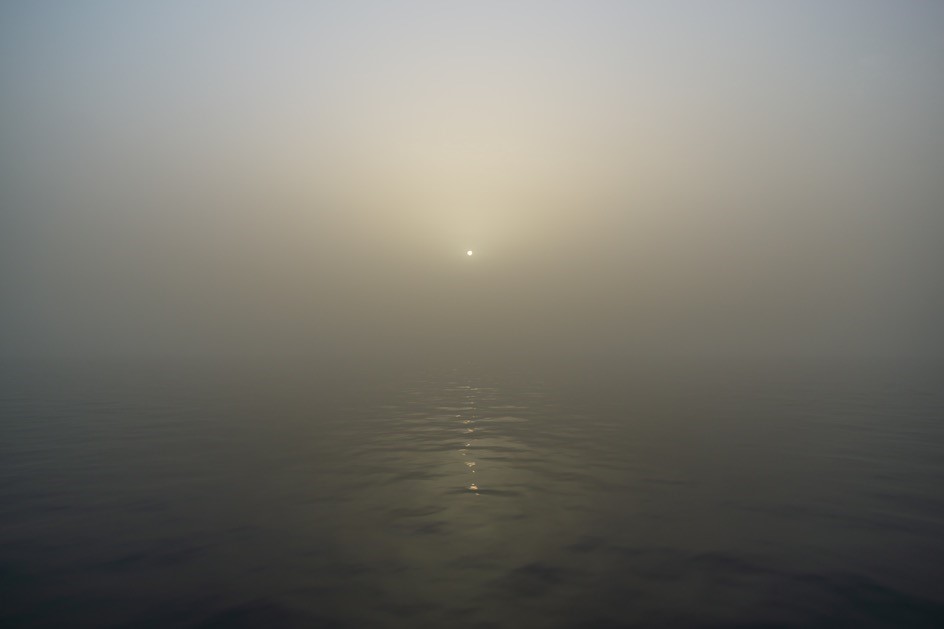 Dessert dust and no wind create a surreal atmosphere with a silver sun and very humid air. For seismic and bathymetric surveys, the perfect sea condition. Picture: N. Augustin (GEOMAR)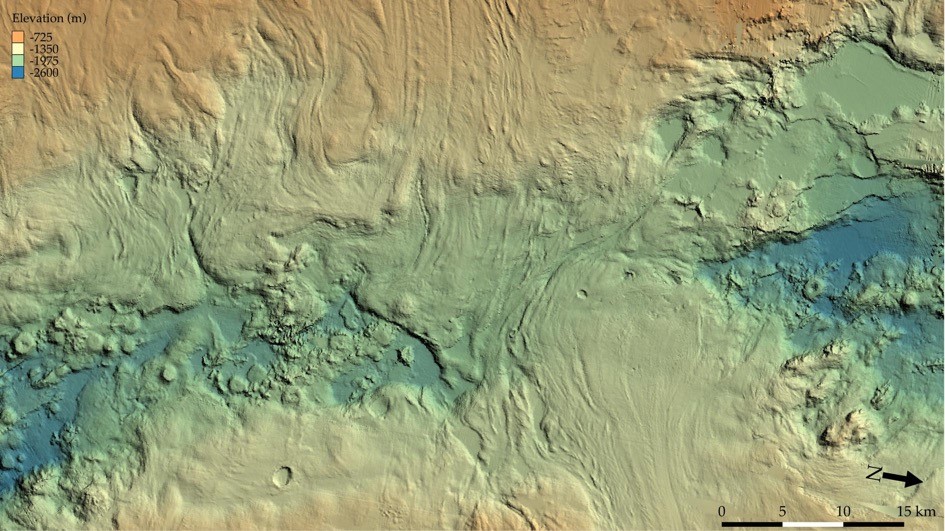 The salt and sediment glaciers in the Red Sea are unique and little studied. We achieve a high resolution of our maps, and here you can see long strains flowing into the volcanically active rift valley in the middle of the Red Sea. The volcanoes can be identified as circular structures in the deeper, blue parts of the map. North is towards the right side. Data processing: Dr. A.-C. Wölfl and M. Schade, Map: N. Augustin, all GEOMAR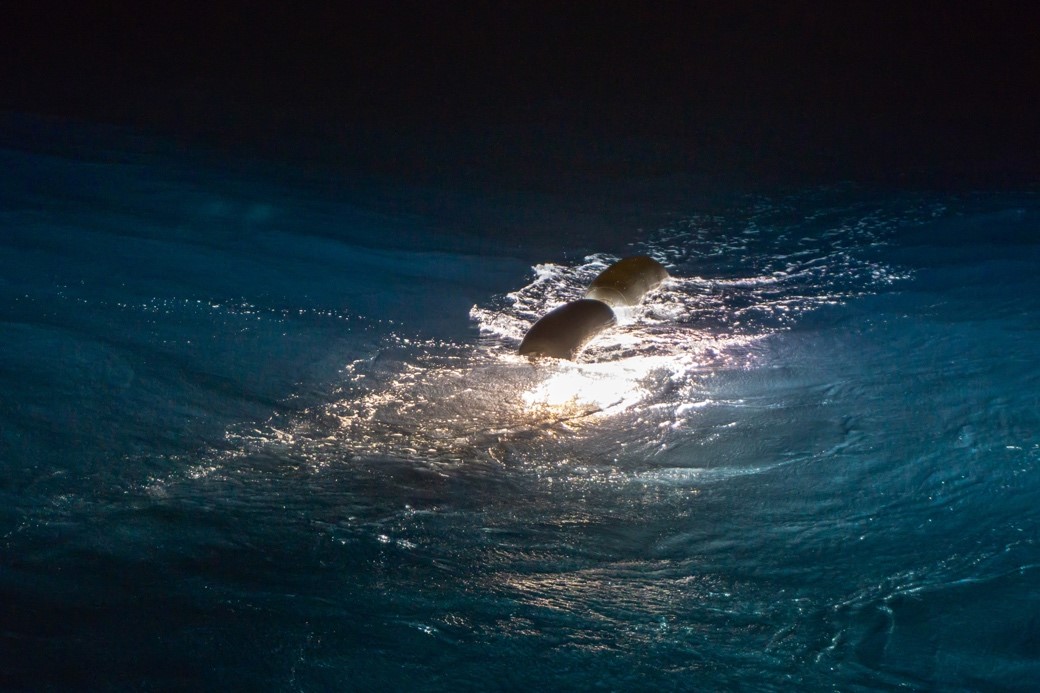 Sound waves for the seismic surveys came from electrical sparks. The sparker-candles become electrically charged and discharge abruptly into a towed metal frame, visible by a bright spark. By this, some seawater gets vaporized and a deep sound wave is generated. Picture: N. Augustin, GEOMAR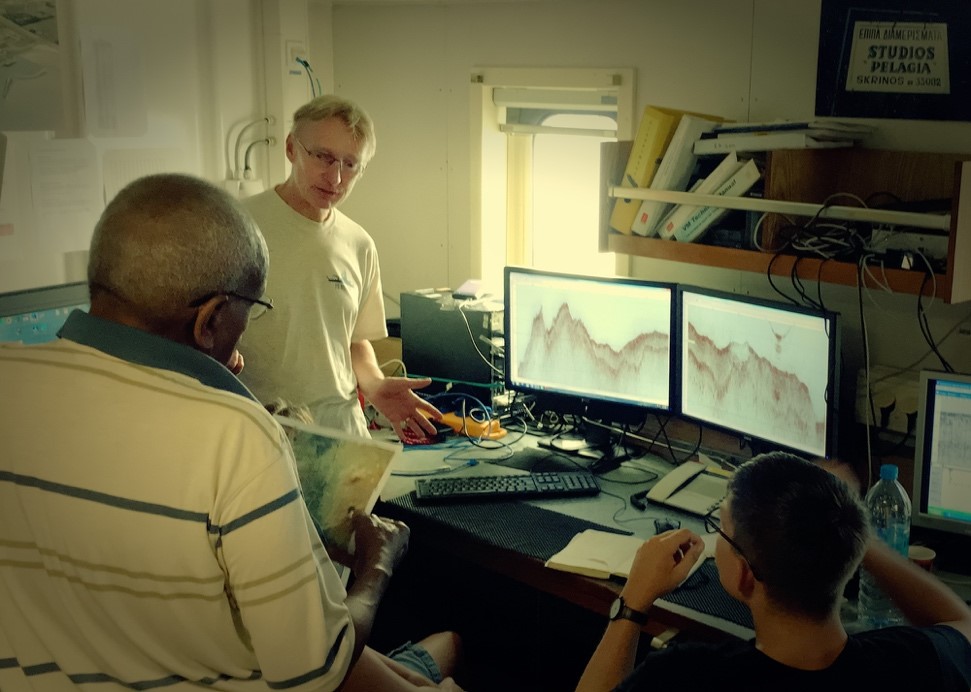 The seismic data was the topic of many scientific discussions among all the researchers on board. We got expected but also quite unexpected results, and we do not always have the same opinion about that – but that is what makes science so interesting. Picture: N.Augustin (GEOMAR)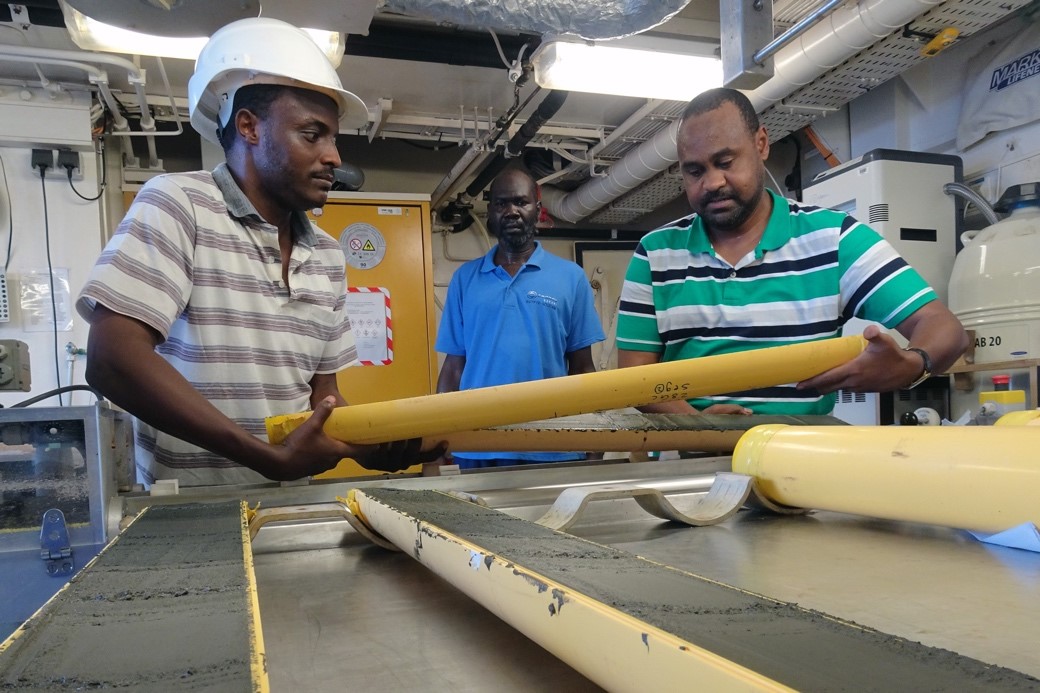 Some sediments from brine filled deeps in the Red Sea have also been recovered during this expedition. Even though the focus was mainly on seismic and bathymetric surveys, the sediments were awaited with excitement too and encouraged dialogs between colleagues. Picture: F.v.d.Zwan (GEOMAR)